Continuing in the footsteps of our big February release, we released a bunch of new features and improvements over the past month and a half.
From small quality of life improvements to long-time standing feature that's been requested many times, these latest changes are sure to help you make the most out of the platform and ship better websites.
So let's dive into a short overview of these new improvements, shall we?
‍
Single-page and sub-site projects
There's no point in hiding it: this is a feature that has been missing from Koalati for way too long.
But now, it's here: you can finally create projects for a specific page or sub-site!
Simply specify the page's URL when creating a project, and only that page and its subpages will be included in your project.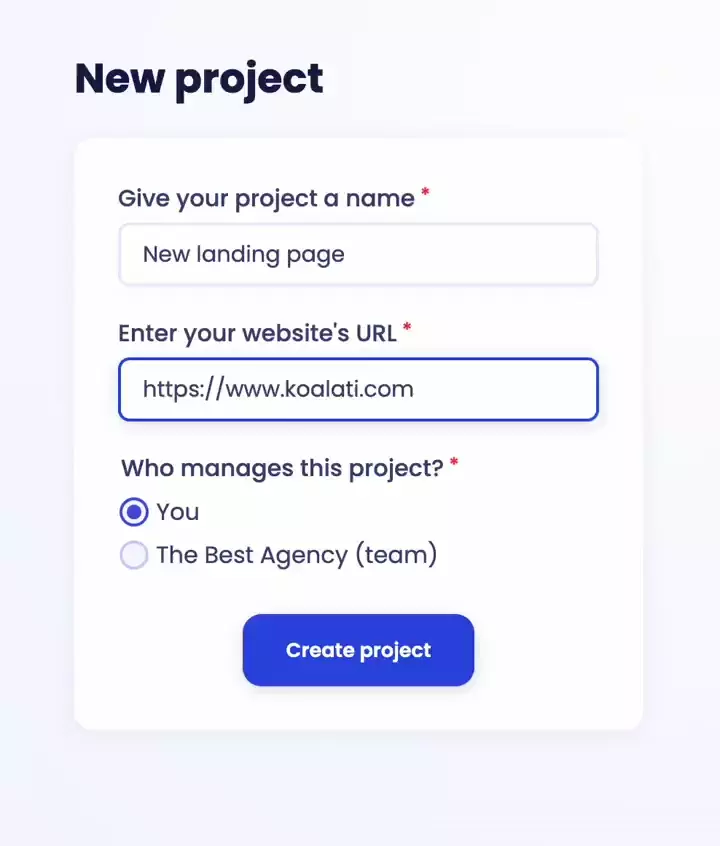 This will allow you to easily test specific sections of a site, or to test that new landing page you just created and haven't yet advertised.
We'll likely be adding more features later on to allow you to focus on specific pages within one of your larger projects, so if you are interested in this, stay tuned!
‍
Deleting comments
Once again, this is a feature that has been requested by users ever since the checklist's comments were introduced.
But now, the wait is over: you can delete your own comments!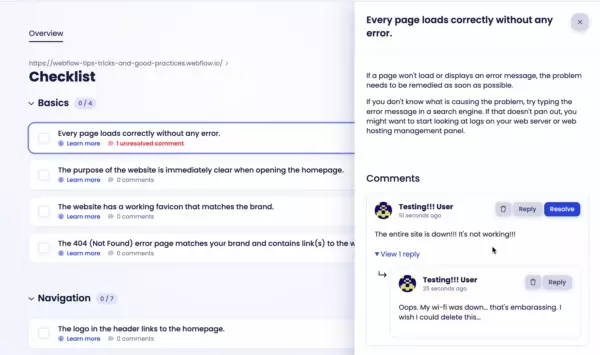 We'll likely add a comment editing feature as well later on, so stay tuned for that.
‍
Checklist improvements
A number of tasks have been added to our website testing checklist, namely:
Search queries with misspelling, accented characters, capitalization and pluralization yield appropriate results. (if applicable)
Forms are protected from spam bots and bad actors
A Content Security Policy is set up on the site to prevent script and data injection.
The x-frame-options header is configured to prevent clickjacking attacks.
We've also added Webflow-specific documentation and resources in many of the existing checklist items.
‍
The free checklist is back!
The free version of our website testing checklist, which had been disabled for technical reasons when the new API had been introduced, is back!
We're happy to be bringing back this free tool: we see it as a great starting point for developers and designers who want to start shipping better websites but don't have the resources to dive into the full Koalati QA experience.
‍
Other changes
As always, there are a few other improvements that don't necessarily deserve their own section:
Fixed an issue where organization members could not be deleted.
Fixed an issue that caused certain API requests to sometimes not be decoded appropriately, causing errors.
Updated dependencies to patch theoretical security vulnerabilities and to improve performance.
Fixed an issue that caused browsers to keep old icon files in cache after new releases.
‍
Self-hosted release v1.3.0
Not only are all of these new features, improvements and bug fixes available on the cloud version of Koalati: they are also available for users who host their own instance of Koalati!!
Users who self-host Koalati can update to the latest release, v1.3.0, to benefit from all of these improvements.
‍
Summary
We publish these website audits not to shame the teams behind the sites, but to educate creators on how to audit and improve the websites they build.
Please note that this article contains affiliate links.
Although Koalati receives a percentage of the purchases made by visitors who follow one of our affiliate links, this is not a sponsored post. The companies and products that are presented, linked to and/or endorsed in this article are there based on merit, on product research by Koalati, and by our experience. As an ethics driven company, we aim to inform and help our visitors and users to the best of our ability, without bias or external incentives.