For 2023, we're starting the year on the right foot.
Over the past few weeks, many new features and improvements to Koalati have been released to help you make the most out of the platform.
So let's dive into a short overview of these latest changes, shall we?
‍
New REST API
This is the biggest improvement by far: Koalati now offers a REST API that provides access to just about everything you can do on the platform.
We have two goals in mind with the release of this API:
Opening the door to integrations with popular third-party platforms like Webflow, Wordpress, Shopify, and many others.
Allowing users and app developers to integrate Koalati's features into their custom solutions.
Integrating Koalati's features in custom applications had been requested by some of our users for a while, so we're happy to finally make this possible for them.
As for third-party integrations, we hope that bringing Koalati's features directly inside of these popular platforms will lower the barrier to entry and make our website testing tools more accessible for web developers and designers. We do not yet have any such integration up and running, but you can be sure that we will let you know when we do release one!
For more information about our API and how to use it, check out the Koalati API page.
‍
Improved onboarding
To be frank, we have been awful at explaining the platform to new users after they sign up.
The tools were there, but the workflow we came up with to help you test your websites wasn't described very well, which has led to confusion for many people. After receiving feedback from users about this, we decided to make a first step towards improving the onboarding experience.
The new Onboarding page of the application aims to inform new users about what tools Koalati offers and how to make the most out of them. We've also revised some of our interfaces to help guide users a bit more.
Although this is a step forward, we know that our onboarding process is still far from perfect. We will keep working on improving the experience for new users in the months to come. If you have any suggestions on how to improve this, we would be more than happy to hear from you.
‍
Accessibility improvements
In order to make our platform more accessible to all, we have updated many parts of the app to increase colour contrast of text and to improve screen reader and keyboard navigation experiences.
Additionally, we've made just about every page and section of the app accessible via the in-app search interface, to help find what you're looking for that much faster. You can toggle the search bar by clicking the search icon in the top right of the app, or with the Cmd/Ctrl + K shortcut.
‍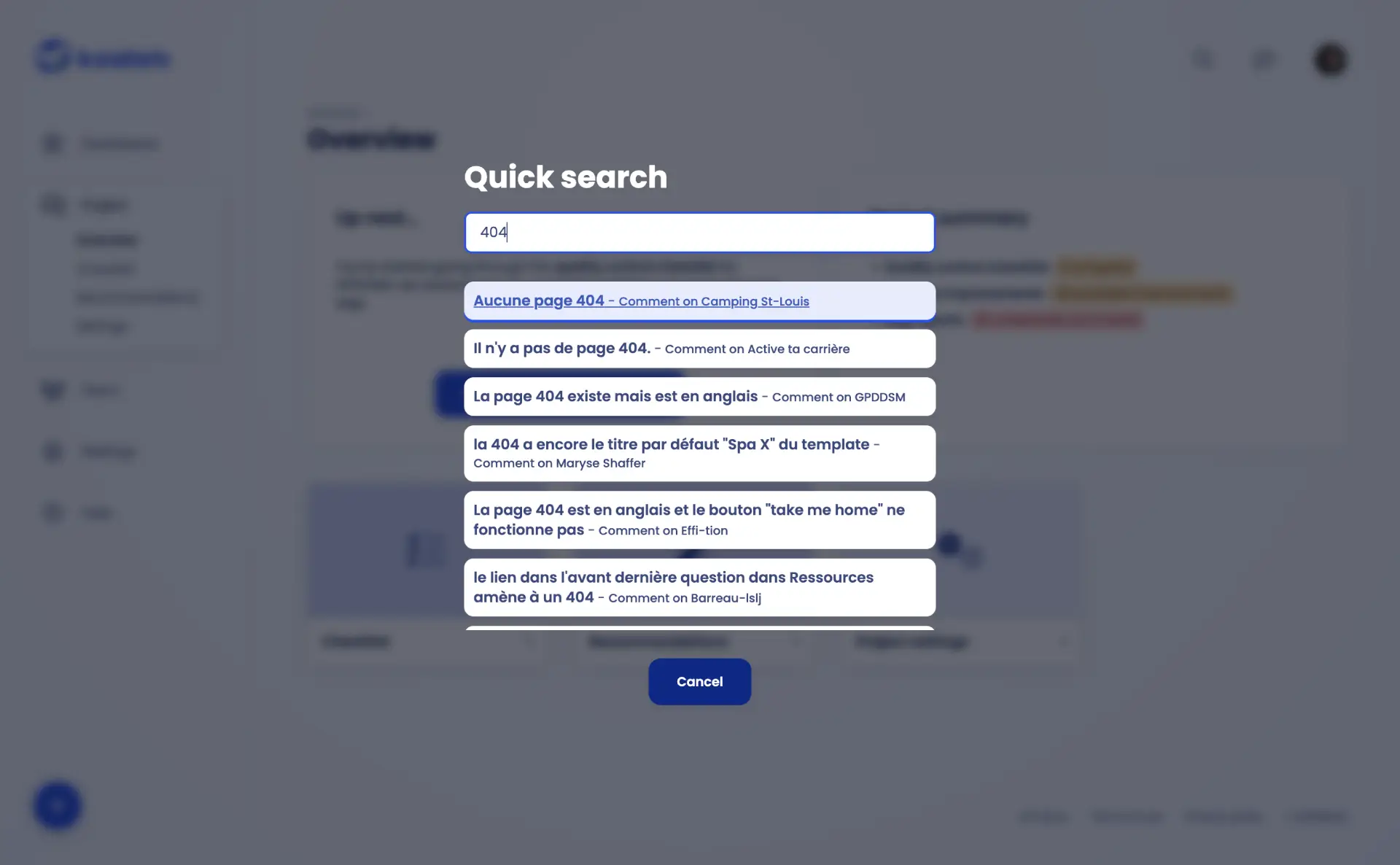 ‍
Page test quotas
The addition of the REST API opens up Koalati to a much higher level of usage of our tools and services. To ensure our platform remains stable and sustainable over time with this new potential for intensive usage, a new "Page Test" quota has been added to all subscription plans.
A Page Test is defined as a single URL being tested once by Koalati's automated testing feature.
For example, testing an entire 50-page website once will result in 50 Page Tests. Testing that entire website again would result in 50 more Page Tests.
‍
Page Tests over the quota
Each subscription plan has a number of Page Tests that are included.
Once that Page Test quota is reached, each additional Page Test from your account will incur an additional cost (in addition to your subscription's cost).
This usage-based cost will be charged to your account's active payment method at the end of each usage cycle. If your account's subscription is cancelled, you will still be charged for any additional usage that has not yet been paid for at the end of your regular usage cycle.
The price per additional Page Test and the Page Test quota varies based on your subscription plan and can be viewed on the Pricing page.
‍
Multiple tests for the same URL within a short time frame
Koalati usually processes testing requests in batches to limit load and processing times.
If two or more tests are requested for the same URL within a timespan of 30 seconds, these tests will count as a single Page Test for your usage quota. The 30-second window is calculated from the time of the first request to the page.
This is done to reflect the fact that we can often optimize batched requests like this in the backend. And if we can save money by batching requests, it's only fair to let you, the users, benefit from those savings as well.
‍
‍
Other changes
Here are a few other updates that have been released recently:
New FAQ section added to the Help page.
Improved performance of automated website testing features (recommendations).
Security: added mandatory email confirmation upon registration and email change.
Re-designed visual links in the Project Overview page.
Fixed an issue that prevented favicons from being fetched.
‍
Self-hosted release v1.1.0
Not only are all of these new features, improvements and bug fixes available on the cloud version of Koalati: they are also available for users who host their own instance of Koalati!!
Users who self-host Koalati can update to the latest release, v1.1.0, to benefit from all of these improvements.
‍
Summary
We publish these website audits not to shame the teams behind the sites, but to educate creators on how to audit and improve the websites they build.
Please note that this article contains affiliate links.
Although Koalati receives a percentage of the purchases made by visitors who follow one of our affiliate links, this is not a sponsored post. The companies and products that are presented, linked to and/or endorsed in this article are there based on merit, on product research by Koalati, and by our experience. As an ethics driven company, we aim to inform and help our visitors and users to the best of our ability, without bias or external incentives.